Summer is here, and Philadelphia is full of fun activities and events for everyone. In a city known for its rich history, delicious food, eclectic art and events, you'll find a variety of adventures to embark on this summer. Whether you'd like to take art classes, explore the gardens, try a new cocktail or dine al fresco, this 2021 Summer Guide will steer you in the right direction. In our guide you'll find details on where to go, what to eat and what to do this season. Let's make it a summer to remember!
Food & Drink
The city of Philadelphia is not only home to some of the best restaurants, but is known as one of America's most diverse restaurant cities. You'll find Korean, Chinese, Italian, Mongolian, Sri-Lankan, Ethiopian, Venezuelan and so much more. Check out the restaurants below for food, ice cream and cocktails to try this summer.
Frozen Treats
Bredenbeck's Bakery & Ice Cream in Chestnut Hill (2021 Happening List Winner)
8126 Germantown Avenue, Philadelphia
215-247-7574
The Ice Cream Parlor is open and you can place custom-cake orders through the website.
Bassett's Ice Cream in Center City (2021 Happening List Finalist)
45 N. 12th Street, Philadelphia
215-925-4315
Bassett's Ice Cream offers 40 different flavors, milkshakes, sundaes and more. This Reading Terminal favorite is open for pickup, Monday through Saturday from 9 a.m. to 6 p.m. You can also get it delivered through Grubhub, Mercato or Caviar.
Scoop DeVille in Midtown Village and at The Bourse
Famous for their custom blends, you'll create your own flavor of soft serve on the spot. Open for pickup and delivery.
Franklin Fountain in Old City
Open for pickup (call 215-967-1184 to order) or for delivery through Caviar or Grubhub.
Pop's Homemade Italian Ice (2021 Happening List Winner for Water Ice)
1337 W. Oregon Ave., Philadelphia, PA
215-551-7677
Pop's Homemade Italian Ice is the 2021 Happening List Winner for Water Ice. It's a Philly favorite for water ice, ice cream, gelati, milkshakes and sundaes.
---
Summer Flavors 
Summer flavors have arrived in the city! Below you'll find just a few of our favorite Philly spots. Most places are open for indoor dining and most certainly dining al fresco, but we always recommend double checking before you go.
Di Bruno Bros. (2021 Happening List Winner for Gourmet Market)
(Rittenhouse) 1730 Chestnut Street, Philadelphia
215-665-9220
(Franklin) 834 Chestnut Street, Philadelphia
267-519-3115
(Italian Market) 930 S. 9th Street, Philadelphia
215-922-2876
From cheese and charcuterie, to burgers, sausages, pasta salads, dips, and more, they have what you need to put together your summer spreads. Shop in stores or place an order online for delivery or curbside pickup. Check the website for store hours.
Reading Terminal Market (2021 Happening List Winner for Farmers Market)
12th and Arch Streets, Philadelphia
Reading Terminal Market is one of America's largest and oldest public markets. All of the Market's fresh food merchants (meat, produce, seafood, cheese, dry/shelf stable goods) are stocked and open for business. You can also shop online or call the store directly to arrange delivery. The market is open Monday – Sunday from 8 am to 6 pm.
Read more about Philly Farmer's Market in our 2021 Guide.
HipCityVeg (2021 Happening List Finalist for Healthy Food)
127 S. 18th Street, Philadelphia
215-278-7605
214 S. 40th Street, Philadelphia
267-244-4342
121 S. Broad Street, Philadelphia
267-296-9001
Whether you eat plant based all the time, or you're looking for some healthier options this summer, HipCityVeg is a great place to start for quick and delicious vegan options.
Loco Pez (2021 Happening List Winner for Mexican Food)
2401 E. Norris St. Philadelphia, PA
267-886-8061
This Happening List Winner for Mexican Food is located in the heart of Fishtown and is open 7 days a week.
Tradesman's
1322 Chestnut Street, Philadelphia
You can enjoy BBQ year-round, but it just feels RIGHT for summer. This Midtown Village spot offers baby back ribs, beef brisket, smoked chicken, and more.
Nick's Bar and Grille (2021 Happening List Finalist for Outdoor Dining)
16 S. 2nd Street, Philadelphia
215-928-9411
Nick's is known for its award-winning bacon burgers and roast beef. During this time, they're open for takeout and delivery Thursday through Sunday from 2 p.m. to 9 p.m. They're offering a limited menu of food favorites as well as 6-packs of beer.
---
Cocktails 
Looking for a refreshing summertime drink? Look no further. Here are some of our recommendations:
Loco Pez (2021 Happening List Winner for Margarita)
2401 W. Norris Street, Philadelphia
267-886-8061
Time (2021 Happening List Winner for Martini)
1315 Sansom Street, Philadelphia
215-985-4800
Morgan's Pier (2021 Happening List Finalist for Outdoor Dining)
221 N. Christopher Columbus Boulevard, Philadelphia
Bud & Marilyn's
1234 Locust Street, Philadelphia
215-546-2220
Hawthorne's Beer Café
738 S 11th St, Philadelphia, PA 19147
(215) 627-3012
Rosy's Taco Bar
2220 Walnut St, Philadelphia, PA 19103
(267) 858-4561
---
Outdoor Dining
Dine al fresco and breathe in the fresh summertime air at one of these Philly favorites:
Morgan's Pier
Manayunk Brewery & Restaurant
A La Mousse
Amari's
Booker's
Bru Craft & Wurst, Tradesman's plus in front of U-Bahn
Bud & Marilyn's
Cafe La Maude
Charlie Was a Sinner
Chickie's & Pete's
Continental
Dim Sum House by Jane G's
Don Barriga Mexican Grill
El Camino Real Restaurant
El Vez
Fare
Fiorella's
Finn McCool's
Flannel
Germantown Garden
Harper's Garden
Hawthornes Beer Garden
Independence Beer Garden
Jerry's Bar
Jet Wine Garden
Le Virtu
Miles Table
Mixto
Old City Beer Garden
Parc
Pistolas Del Sur
Positano Coast by Aldo Lamberti
Ralph's Italian Restaurant
Rosy's Taco Bar
Sancho Pistolas
Slice
Talula's Garden
Tio Flores
Twisted Tail
Urban Village Brewing Company
Victor Cafe
---
Outside Fun
Summer doesn't last long in Eastern PA, so enjoy it while you can. There is an abundance of fun locations to get fresh air, soak up that Vitamin D, and stretch your legs! Here are just a few suggestions of where to go:
Kelly Drive and Martin Luther King Jr. Drive Loop
If you live in Philly, you've probably already been out on Kelly Drive this season. One of the area's most popular running and biking routes, the Kelly Drive and Martin Luther King Jr. Drive Loop is a 9.3 mile lap that goes along both sides of the River.
Bartram's Garden
5400 Lindbergh Boulevard, Philadelphia
Bartram's Garden is a 45-acre National Historic Landmark with over 30 gardens to explore. You are welcome to walk, fish and enjoy nature at the oldest botanic garden in the United States.
Delaware River Waterfront
The Delaware River Waterfront is a destination for recreational, cultural and commercial activities. Enjoy Summerfest at the Blue Cross RiverRink, which incudes roller skating, mini golf, boardwalk rides, games and great restaurants.
The Navy Yard
The Navy Yard has over 20 acres of parks and a mile of waterfront trail. Visit the website to learn more.
The Woodlands
400 Woodland Avenue, Philadelphia
Open Wednesday through Sunday from dawn until 7:30 p.m. The Woodlands consists of 54 acres that are free to explore with a unique 18th-century English garden, 19th-century rural cemetery, and modern green oasis.
---
Summer Events & Things to Do
Sisterly Love Food Fair at Cherry Street Pier
Select Saturdays, May – August,  11am – 3pm
The Sisterly Love Food Fair is a women-led initiative to promote Philadelphia-based and women-run hospitality businesses affected by the Covid-19 pandemic through traveling food markets. Here you'll be able to shop pre-packaged items ranging from handmade pasta to baked goods and artisanal condiments. Shop local, shop small and shop women. Visit the website to view the schedule.
Center City Fit Classes
Get moving outside at Dilworth Park with Center City Fit classes. These fitness classes are free and are suitable for all skill levels. Check the schedule to learn more about classes and timing.
At-Home Anthropology by Penn Museum
Penn Museum is now open and available through scheduled visits. Plan your one-hour entry on the website here.
Online Classes & More through Barnes Foundation
Barnes Foundation is open Friday-Monday, 11am – 5pm. The current exhibition Soutine/de Kooning Conversations in Paint is running until August 8, 2021. You can take classes on-site, and can also sign up for new online courses to enjoy from home. There's a variety of courses to choose from.
The Franklin Institute
The Franklin Institute will be open daily beginning on July 5th. Advance ticket purchase is highly recommended on the website. There are events taking place on-site and many of them can also be joined from online.
LGBTQ+ Pride Month with the Free Library
June-July
Celebrate LGBTQ+ lives, stories and histories throughout the month of June and into July with the Free Library. Visit the calendar of events to find out how your family can enjoy Drag Queen Storytimes, virtually lead crafts, sexuality workshops, happy hours, and more. Events are virtual and there's something for all ages.
Philadelphia Latino Virtual Film Festival
May 30-June 6
View works by emerging Latino and Latin American filmmakers with a lineup that includes feature films, shorts, animations and documentaries. View the website for trailers, descriptions and a schedule.
Wawa Welcome America Virtual July 4th Festival
June 19 – July 4
This year, Wawa Welcome America will be providing 16 days of safe, responsible and in-person programming. Arts, culture, education, history and performance will continue to play a starring role in the festival, along with new virtual opportunities to expand and enhance Wawa Welcome America's free and interactive programming. You will get free admission to the African American Museum of Philadelphia, the National Constitution Center and more. Flo Rida and Bebe Rexha will also be performing. Click here to view the full schedule.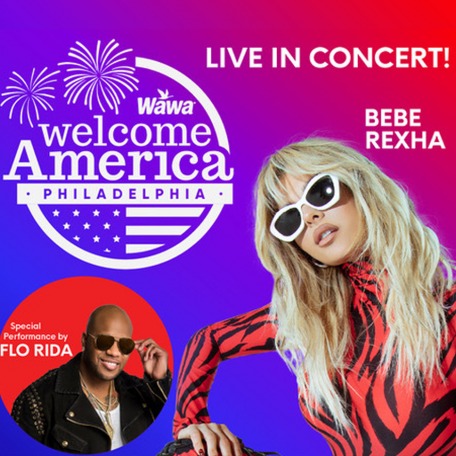 Free Library of Philadelphia Summer of Wonder
June 1 – August 31
This year's program will be completed online. Children, teens and adults can sign up to earn points and badges for activities completed and time spent reading.
BlackStar Film Festival
August 4 – 8
This 4-day festival celebrates black traditions, black people and black arts by showcasing films from an international repertoire of people of color. The festival will be held virtually again in light of the pandemic.
For more great ideas visit our #LoveLocal business guide.
We Are Supported By: