Tis' the season! Philadelphia is celebrating the most wonderful time of the year! Tree lightings, holiday performances, parades and more are all in the lineup for this year's holiday season.
Don't miss out on any of the holiday fun with our comprehensive 2021 Holiday Guide to Philadelphia:
Click the images below to read more about the #shoplocal Gift Guide, Christmas Tree Farms, Where to See Santa and Holiday Celebrations. While you're out and about this holiday season, check out some of these spots to have coffee & brunch.
---
Philly Christmas Trees
Spring Gardens: 1830 North Street, Philadelphia
Saturday/Sunday 9:30 am – 5:00 pm
Lemon Hill Mansion: 1 Lemon Hill Drive, Philadelphia
Saturday/Sunday 9:30 am – 5:00 pm
Evil Genius Brewing: 1727 N Front Street, Philadelphia
Saturday/Sunday 10:00 am – 5:00 pm
Rocky YO-MO's Christmas Trees
1000 S. Front Street, Philadelphia (Front and Washington Ave.)
Rocky YO-Mo's offers a great selection of live, premium-grade Christmas trees, including Douglas Fir, Canaan Fir, and Blue Spruce. And best of all, you can get free delivery!
The Christmas Tree Stand
Regarded as prime Christmas tree rental, delivery, setup and removal company in the city, having a Christmas tree in Philly has never been easier! Conveniently visit their website to set up your delivery.
---
Santa's House at Christmas Village
Where: Love Park and City Hall, Philadelphia
When: Now until December 24th, 11 am – 7 pm daily
Take your photo with Santa at Santa's House, located in Philadelphia's Christmas Village.
Brunch with Santa
Where: The Olde Bar, 125 Walnut Street, Philadelphia
When: December 5 – December 12 (select dates)
Santa Claus visits The Olde Bar in Philly to make memories with families during a special brunch. Kids can present their Christmas lists to Santa while enjoying brunch favorites like french toast, bacon and hot chocolate. Adults cost $45 and children under 12 are $25. Seatings are at 9 am, 11:30 am and 1 pm.
Photos with Santa | Fashion District
Where: Fashion District Philadelphia, 9th and Market Street, Philadelphia
When: Select dates (see schedule here)
The magi of the holiday season comes alive with a visit to Santa's winter wonderland. Santa will be at the Fashion District starting December 2nd at the 9th and Market Street entrance. A visit with Santa is always free and photo packages are available for purchase. Choose your experience to capture the magic, socially distant or sit with Santa.
Photos with Santa | Cherry Hill Mall
Where: Route 38 & Haddonfield Road, Cherry Hill, NJ
When: Select dates/times until December 24th
Visit Santa in the Grand Court to capture your holiday memories. Reservations are encouraged but not required. Digital photo packages are available for purchase. Hours are Monday-Friday 11 am – 8 pm (break time 3:45-4 pm), Saturday 10 am – 8 pm (break time 2:45-3 pm) and Sunday 11 am – 6 pm (break time 230 pm – 3 pm).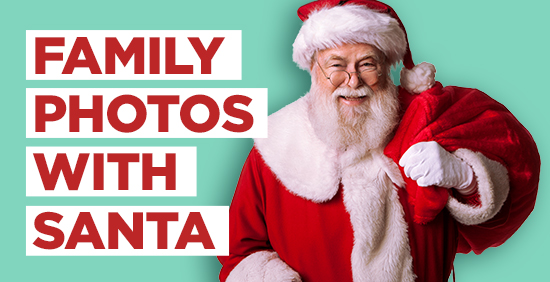 ---
LumiNature at Philadelphia Zoo
When: November 18th – January 9th
Where: Philadelphia Zoo
Philadelphia Zoo is excited to light up the holidays once again with the return of LumiNature, presented by Chase. The giant-sized holiday extravaganza will transform the entire zoo into a nighttime wonderland. Guests will experience a magical journey of lights, music, sounds and surprises. LumiNature will expand to feature 14 illuminated experience zones that will feature lively themed displays, newly-enhanced installations and thousands of twinkling lights. In addition, there will be seasonal fare, strolling performers, hot chocolate and ever-warming adult beverages to spark the holiday spirit.
Wintergarden at Dilworth Park
Greenfield Lawn at Dilworth Park, 1 S. 15th Street, West Side of City Hall, Philadelphia, PA
Beginning in November, some of Philadelphia's favorite winter traditions return to Dilworth Park. You can enjoy the Rothman Orthopedic Institute Ice Rink and reindeer topiaries on the Greenfield Lawn. A full lineup of free entertainment is planned, including the Deck the Halls Light Show, the Made in Philadelphia Holiday Market and the Rothman Orthopedic Institute Cabin. Dilworth Park's winter season begins on November 1st. The Philadelphia Holiday Market opens on Saturday, November 20th and on Monday, November 22nd is Dilworth Park's Deck the Hall Light Show. For updates on hours and closures, follow along on Facebook.
Christmas Village in Philadelphia
When: November 25th – December 24th, 11 am – 7 pm
Where: Love Park and City Hall
Christmas Village in Philadelphia is an outdoor holiday market event in Center City Philadelphia, which is modeled after traditional Christmas Markets in Germany. Vendors in wooden booths will set up shop during the holiday season to sell a wide variety of international holiday gifts, ornaments, jewelry and high-quality arts and crafts, as well as traditional European food, sweets and drinks. The unique atmosphere of lights and delicious smell of waffles, gingerbread, bratwurst and mulled wine will bring your family into the perfect Christmas spirit.
Peddler's Village Gingerbread Display & Competition
2400 Street Road, New Hope, PA
(215) 794-4000
www.peddlersvillage.com
A holiday tradition at Peddler's Village since 1984, the Gingerbread Competition and Display has more than 75 creative and whimsical entries in the categories of: NEW! Holiday on Wheels, Traditional, Authentic Reproduction Around the World, 3-D, Movie or TV Set, Winter Wonderland, Student and Kids Only. The Gingerbread entries will be on exhibit during shopping hours from November 19th through January 8, 2022. Admission is free.
Winter in Franklin Square
3601 South Broad Street, Philadelphia PA
215-389-9543
www.historicphiladelphia.org
Winter in Franklin Square presented by Citizens features an Electrical Spectacle Light Show presented by PECO and will sparkle until February 27. Guests can celebrate the magic of the season both day and night in the festive Franklin Square. There will be new songs incorporated into this year's Electrical Spectacle Light Show. Plus, Franklin's Winter View provides outdoor fire pits and beautiful indoor heated tents, featuring adult hot beverages and seasonal food. Mini golf is open in both day and evening. Experience lights, seasonal music and larger than life wintertime friends. Open daily from 10 am – 9 pm. and Fridays and Saturdays from 10 am – 10 pm. Closed on December 25 and January 1.
Shady Brook Farm Holiday Light Show
931 Stony Hill Road, Yardley
215-968-1670
www.shadybrookfarm.com
Shady Brook Farm's spectacular Holiday Light Show features more than 3 million lights illuminating acres of farmland. Encounter whimsical displays and characters you might recognize as you drive through in the comfort of your own car. You can also enjoy the show on an open-air wagon ride (weather permitting). Stop in after the show to warm up at a toasty campfire, enjoy hot chocolate, cocoa, s'mores kits, tasty treats and locally produced adult beverages. Get your tickets on the website.
Winter on Broad Street: A Holiday Light Spectacular!
3601 South Broad Street, Philadelphia PA
215-389-9543
www.wellsfargocenterphilly.com
Feel the glow of the holidays as you step into an illuminated escape with your friends, family and loved ones. Winter on Broad Street: A Holiday Light Spectacular presented by Dietz & Watson helps you find the magic of the season as you walk through 193 larger-than-life light sculptures and displays. Make lasting memories in this winter wonderland from November 27-January 3. Tickets must be purchased to attend. Marquee light sculptures include a 25-foot reindeer, a 20-foot ornament, twin, dazzling diamond sculptures, an enchanted forest of over 45 illuminated trees, an 'Under the Tree' pop up of life size lit toys and glowing tunnels and winding icicle paths. There will also be snacks and sweets, mistletoe marketplace, reindeer games, a chance to take a photo with Gritty, ornament decorating and so much more.
Holiday Tree Lighting Celebration 
City Hall, Philadelphia PA
December 2
A 45-foot Christmas tree will be making it's way back to the north side of Philadelphia City Hall, all the way from Steuben County, NY, for the Philadelphia's Annual Tree Lighting Celebration at 7 pm on Thursday, December 2nd. There will also be a Ferris wheel, a kids train and tons of holiday shopping set up at  Dilworth Park. Disney's a capella group, DCapella will perform. The ceremony will be streamed live on 6ABC for a full hour, a half-hour longer special than the station hosted last year.
Visit Philadelphia Holiday Parade
Market Street, Philadelphia PA
December 4, 5 pm
The city is hosting a new holiday parade that will head up Market Street at 5 pm on Saturday, December 4th. The event will highlight the diverse holidays celebrated throughout Philadelphia during the season, including Hanukkah, Kwanzaa, Christmas and Chinese New Year. The parade starts at Second and Market Street and heads west to City Hall. There will be floats with lights, balloons and marching bands. Arts and culture groups and neighborhood-based cultural organizations will also participate in the new parade, marching with holiday banners, balloons and other parade props.
For more great local resources, visit our #LoveLocal Guide here.
By: Sophia DeWald
We Are Supported By: